Unknow
xoài. The heart-wrenching scene unfolds as a mother dog, her eyes filled with despair, desperately attempts to nudge her vulnerable offspring away from the impending threat of the slaughterhouse.
In the grim setting of a slaughterhouse, a tale unfolds that transcends the confines of cruelty—a narrative of a mother dog's poignant sacrifice as she desperately tries to push her precious puppy out of harm's way. This emotional journey reveals the profound depths of a mother's love, even in the face of unimaginable adversity.
The story begins in the stark reality of a slaughterhouse, where lives hang in the balance and the air is heavy with despair. Amidst the heart-wrenching scene, a mother dog, eyes filled with sorrow, clings to her tiny puppy, attempting to shield it from the impending threat.
As the mother dog is ushered towards an uncertain fate, her maternal instincts kick in with fierce determination. Despite the surrounding chaos and the impending danger, she engages in a poignant struggle to push her baby away, a heartbreaking attempt to ensure its survival.
Witnesses to this emotional scene are moved by the mother dog's selfless act, her cries echoing the pain and desperation of a mother fighting against the cruel forces that threaten her offspring. Images and videos capturing the raw emotion of this moment circulate on social media, drawing the attention and empathy of the online community.
The story becomes a rallying point for animal welfare advocates, prompting discussions about the ethical treatment of animals and the urgent need for change within the meat industry. Calls for increased awareness and legislative measures to protect the welfare of animals in such facilities gain momentum.
The tale of the mother dog's tearful struggle at the slaughterhouse is a stark reminder of the silent suffering endured by animals in the shadows of industrial practices. It prompts us to confront the ethical implications of our choices and advocates for a more compassionate world where the bonds of motherhood are respected, and the dignity of every living being is acknowledged.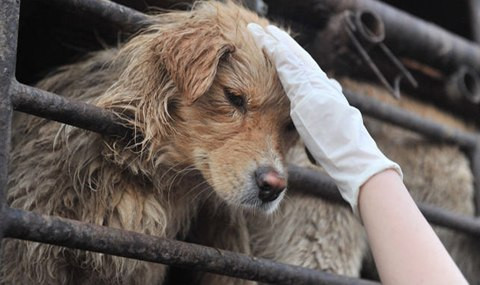 As the online community reacts with shared grief and calls for change, the narrative transforms into a catalyst for broader conversations about the treatment of animals in the food industry. It challenges us to reconsider our relationship with the creatures we share this planet with and inspires a collective commitment to creating a more humane and compassionate future.