Unknow
Unleashing Love: Furry Friends at Methodist Children's Hospital Offer Comfort and Hope to Young Hearts
Jaime, a large goldendoodle, brings holiday cheer in his Santa costume, responding to the gentle summons of his handler, Caroline Wilson. Together, they work their magic, providing solace to 16-year-old Kalynn Holmes-Butler. With a tail wag and a graceful leap onto the hospital bed, Jaime quickly makes himself at home, soothing the young patient into a peaceful slumber. Kalynn, her face radiating with joy, tenderly strokes Jaime's soft fur, exchanging sleepy but contented greetings.
At Methodist Children's Hospital, we are privileged to have these two extraordinary dogs by our side, providing unwavering comfort to children undergoing medical procedures, offering solace to stressed nurses, and standing as beacons of support for grieving families. Sometimes, they stand vigil at the doorways of patients who, for medical reasons, cannot physically touch them but find their mere presence to be a source of solace.
Jaime and Hazel have the incredible ability to bring smiles to nearly everyone they meet. Their presence has transformed our hospital into a friendlier and more inviting place for children and their families.
Caitlin Pearce, the hospital's director of child life and the handler of Hazel, a spirited 3-year-old golden retriever, attests to the remarkable impact of these dogs, remarking, "We say she does the work for us, just the power of the paw."
Our hospital's dog program began over a year ago when we welcomed Hazel from Canine Assistants, a nonprofit organization specializing in training service dogs. Hazel was meticulously trained as a facility dog, specifically tailored for the hospital environment and working with children. During her training, she became familiar with the sights, sounds, and smells of children's hospitals, preparing her to provide comfort to our young patients.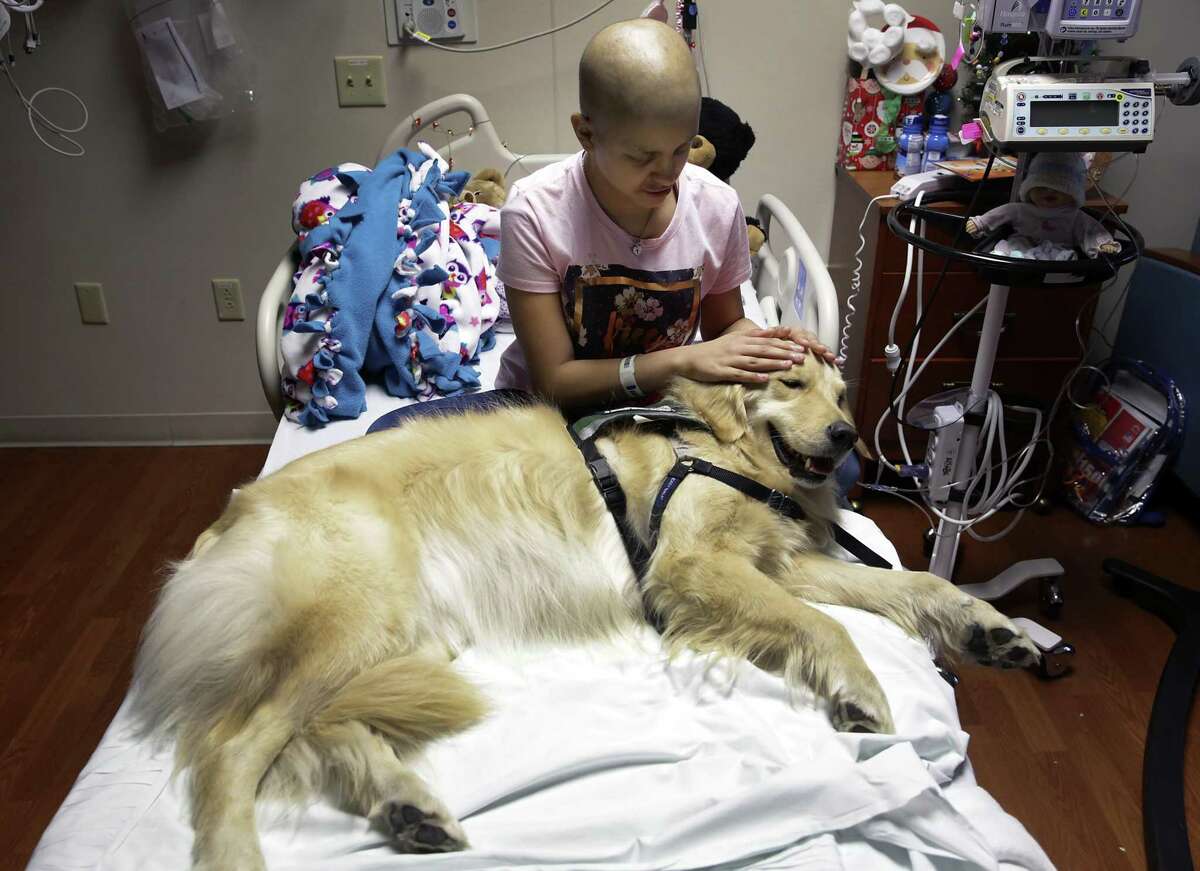 Karen Casto, who places dogs in hospitals for Canine Assistants, notes the increasing interest in service dogs from healthcare facilities. These dogs are carefully bred and raised to be comfortable in public spaces, selected for their temperament to handle the stress, emotions, and noise often found in a hospital setting.
The cost of these incredible dogs is substantial, with each dog requiring $21,000 for upfront expenses alone. Generous donors have played a crucial role in covering not only the initial costs but also ongoing expenses such as food, treats, and veterinary bills.
Before joining our hospital, both dogs and their handlers attended a weeklong training camp in Georgia. Bond-based training ensures that the dogs closely follow their handlers' cues, creating a strong and effective partnership.
On any given day, you can find Jaime, often adorned in a Santa costume and an employee identification tag, eagerly welcoming hospital visitors in the lobby. Passersby stop to pet him, and he greets them with infectious enthusiasm.
Jaime's rounds take him throughout the hospital, offering comfort to patients and their families. His interactions range from a quick visit with a boy on a gurney to a quiet moment at the nurse's station, where he leans against a staff member, offering a soothing embrace.
In one heartwarming visit, Jaime brings smiles and laughter to 10-year-old Luna Ramirez, who is preparing to leave the hospital. Luna's mother, Amanda Ramirez, shares a moment of levity as Luna twirls her fingers in Jaime's soft fur.
Both Jaime and Hazel offer a unique and invaluable service to the hospital. They possess opposite personalities, allowing them to be assigned to patients based on specific needs. Jaime, with his calm demeanor, provides comfort in quieter situations, while Hazel's energy shines when children need motivation to get up and move after surgery.
Caitlin Pearce reflects on the profound impact these dogs have had on the hospital, expressing that she cannot imagine doing her work without them. Their presence brings comfort, joy, and a sense of normalcy to a place that can often be filled with stress and anxiety. The dogs support not only the children but also provide solace to the staff and families, reminding everyone of the extraordinary power of the human-canine bond.